Stock Restorations

scroll down for pricing

!!!ATTENTION!!!!

Due to the high amount of time/ cost needed to restore a radio, coupled with the ever increasing amount of age related problems with ancient electronics, We will no longer be offering stock restoration services for the foreseeable future- We will only be offering Conversion services. Please consider having your radio Converted- it will sound better, tune better and be more reliable and still retain the 100% stock appearance you love when mounted in the dash!
Why Restore your stock radio?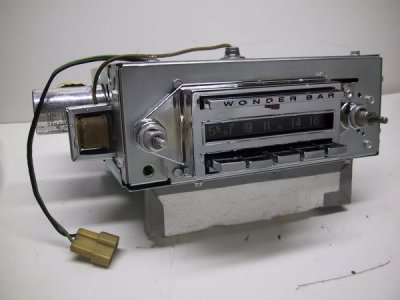 Cruising in a classic car is a thrill thats hard to beat. Part of that enjoyment comes directly from the radio. The stock radio is an integral part of the cars interior and can add or detract value depending on the condition of that radio. Unfortunatley these radios are between 35 and 80 years old and in desperate need of restoring. At the very least, every classic car radio should have the Electrolytic capacitors replaced and the tuner cleaned/ relubed. Controls wear, component values drift and paint flakes off. But that sad old radio can be made to work like new again and look great while you are cruising.
Whats included in the Resto
Time takes its toll on everything, including your radio. Over time, wires become brittle, capacitors dry out, grease hardens, paint chips, fades and flakes off, screws and cases rust and tuners stick. For this reason EVERY radio we restore has all electrolytic capacitors and out of tolerance components replaced, replacement of vibrators and rectifiers with solid state replacements when available,test and replace (if needed) all tubes, precise alignment of all RF and IF circuits, cleaning, lube and alignment of the mechanical tuner, repair or replacement of Pots, switches coils and transformers and replace all brittle, pinched or damaged wires. Then we clean/polish all cosmetic parts, clean cases and repaint heat sinks, dial pointers, dial backgrounds, and masks. Whenever possible we save and re-attach or completely recreate original stickers and labels. Finally each radio is tested for a minimum of 72 hours before being sent back to you with a 1 YEAR WARRANTY. The goal of the restoration is to make the Radio function like new and look like a clean survivor radio.
Warranty
Every radio restored by Joe's Classic Car Radio is returned with a 1 year warranty. If your radio should fail to function in that time, We will repair it at no cost. The warranty covers all electronic and mechanical parts of the radio.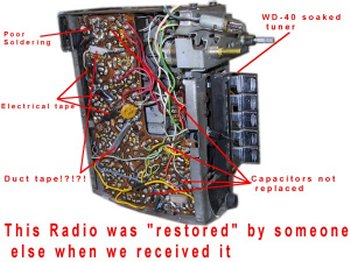 Why Have "Joe's" restore your radio
There are many individuals and radio repair shops attempting to provide quick and cheap repairs. Most shops wont even bother with restorations any longer due to the increasingly difficult tash of finding or making replacement parts. While a cheap price may be inticing, these individuals and shops lack the necessary equipment and experience to provide a long lasting classic car radio restoration. We have the knowledge and technical capabilities to hand build and design replacement parts and we know what it takes to get the job done right. Dont risk yoru precious radio on a cheap repair! Send your radio for the best service available. Only from Joe's Classic Car Radio.
Having serviced, restored, redesigned and recreated thousandands of car radios, we spend the necessary time to give you a FIRST CLASS radio restoration and back it up with 1 YEAR WARRANTY. No other company takes the time to ensure a trouble free radio PERIOD!
Radio Restoration

Price List RESTORATION ONLY AVAILABLE FOR AMERICAN MADE CARS. European/ other analog radios can be converted only. Click here to see our CONVERSION page.

Price list is a general overview of common radios- if your radio is not listed, please feel free to email us for a quote.

Restoration cost listed below do not include chrome plating or case plating, replacement knobs/Backrings or return shipping charge unless otherwise discussed and agreed. If you are needing plating services, please contact us for a quote. All listed costs are for restoring customers radio- If you do not have a radio to send for service, contact us to purchase a core radio for service.
BROKEN VOLUME/TUNING SHAFTS- Add $95.00 to cost.
AM Only Radio Restoration
Pre 1950-Contact for Cost- Please send picture of radio
1950- 1958= $565.00
1959- 1981= $375.00
Radio with built in speaker= Add $55.00
AM and AM/FM "Signal Seeking" Radio Restoration
Pre 1950-Contact for Cost- Please send picture of radio
1946- 1957= $645.00
1958- 1981= $595.00
Radio with built in speaker= Add $55.00
AM/FM MONO only Radio Restoration
1963- 1981= $495.00
AM/FM Stereo Radios WITHOUT multiplex unit Restoration
1963- 1981 MOST RADIOS= $545.00
1963- 1981 FORD RADIOS= $645.00 **HIGHLY RECOMMEND CONVERTING THESE RADIOS!!!
AM/FM Stereo Radios With multiplex unit Restoration
1963- 1981= $575.00
AM or AM/FM 8 track/Cassette Radio Restoration
1963- 1981= $695.00
Stand Alone Multiplex Restoration
1963- 1981= $325.00
Stand Alone 8 track Player Restoration
1963- 1981= $595.00
Reverb Unit Restoration
*Internal coils must be usable* 1963- 1981= $325.00
Payments
All sales and services can be paid for by credit card, Paypal or Check/Money order. After your radio/order is received, an Invoice will be emailed to you. All Invoices can be securely paid online using PAYPAL. You do NOT need a Paypal account to pay the invoice- your credit card can be used. All invoices must be paid before service will begin. If you are uncomfortable paying by online service, please contact us for options.